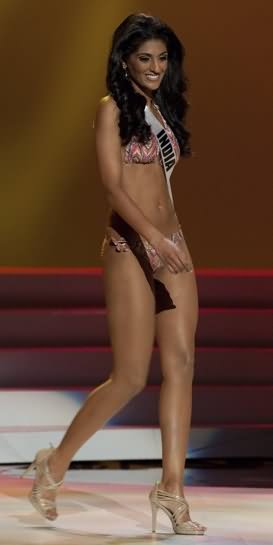 Awful looking Miss India Universe 2011 looses again want to know why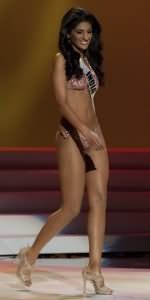 No offense to the Miss India Universe contender but don't you think the judges are selecting imperfect looking models for the competition these days. Here are the various contestants which were available as a better option but the judges chose her. Her facial features doesn't seem to be that attractive neither does her figure. Though there are many factors which decide which model is to be selected. Vasuki Sunkavalli was chosen as the Miss India Universe but she failed as expected no one could ever think she would win with those kind of looks.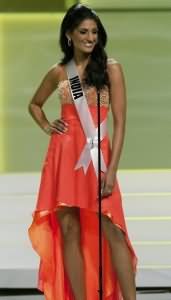 Earlier, the 27-year-old Vasuki Sunkavalli was disappointed as she could not pose in her national costume because it was not delivered on time. I think even with the best of costumes she had no chance. The Miss Angola who has won the Miss Universe 2o11 has thousand times more chances than she had. Her face is just not that pretty for a world wide beauty contest.
I seriously doubt the abilities of the judges who select these models. She is 27 years old, the oldest contestant in I am she contest. Why will you give a granny chance to compete at international level. Don't you think this brings shame to the nations talent that our models have.

Her dressing style and her looks failed to impress the judges at the contest.  Apart from that she is too thin she needs to put on some extra kilos. If there is someone to blame its the judges and not the contestant alone.
Since last so many years all models which have been selected look average and not as good as the earlier beauty queens like Aishwarya, Priyanka Chopra, Celina Jaitley look. They don't tick the mind and heart of viewer. I hope the people really see that this is about country's pride and if they can't make right judgments they should not send people with the tag of "India" attached to them and should just use their personal names. Because people say, Miss India lost rather than saying certain model lost.
Priyanka Lulla 2011 Miss India Contestant
Now look at Priyanka Lulla she is so pretty why in the world would you think of giving someone else like Vasuki a better chance than her. This is a beauty content not a rhyming or singing contest the better looking girl should be given chance.
(Above mentioned are authors personal opinions.)