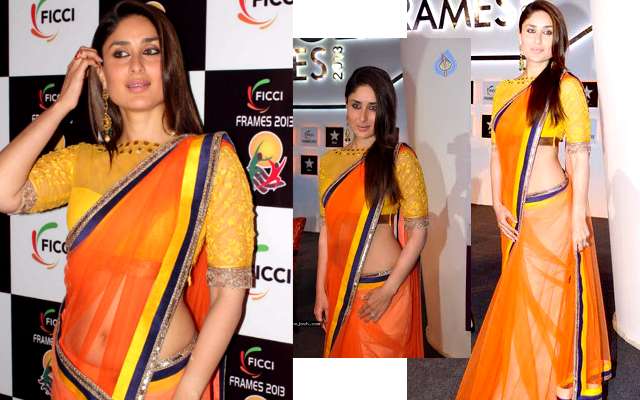 Kareena Kapoor in Saree pics at FICCI Frames 2013
Ficci Frames event 2013 saw some of the biggest stars of Bollywood gather in a forum. Mostly it was girl power. Remembering the Mr. Yash Chopra for his years of hard work in the Bollywood industry also present at the event was Karan Johar, Kareena Kapoor, Kajol, Kamal Hassan,  etc.Here are hot pictures of Kareena Kapoor Khan from FICCI Frames 2013 wearing orange color saree and posing infront of the camera. Kareena is known for her style and fashion statment. Her plain soothing color saree with blue and yellow border is simple yet elegant in design, while her navel can be seen.
Kareena is wearing an orange dress with purple and yellow border, her hairs are open and she is wearing a long sleeved blouse in yellow shade.
Kareena Kapoor and Karan Johar at the stage
Kareena lightening the candles
posing infront of the camera
Here is the video from FICCI Frames 2013