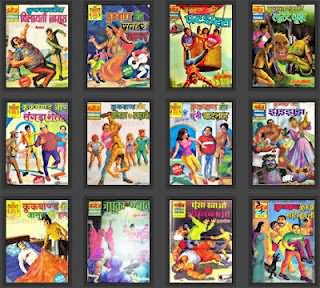 Crookbond Comics Download Collection from Manoj Comics
Crookbond is double secret  agent and the chela of James bond. Crookbond along with his brother Motu and father Dhamaka singh who is a police constable fight crime. Later in the comics they get a super car which is capable of performing various tasks. Including the car's ability to fly, throw lasers and acid on enemies. Crookbond comics were funny and filled with a strange action. Manoj comics main heroes list included Crookbond in top 5. Though he was shown as a clumpsy guy who relied on luck more than his brain, but later he started showing his intelligent skills and strength in fighting crime. Motu though being the sidekick was good at using his hands as well.
Here is a small collection of Crookbond comics which includes the following list of comics.
Vilayati Jasoos, Sunehra Jaal, Patjhatta, Lutere vraksh, Langda Shaitan, Koral ke ladake, Khooni Badshah, Jhuijhuda, Jasoos ki hatya, Japuka ka shaitan, Ghunsa khao Sehat banao, Kungfu master Bruce Lee
Vilayati Jasoos
Sunehra Jaal
Pattjhatta
Lutere Vriksh
Langda Shaitan
Koral ke ladake
Khooni Badshah
Jhudjhudda
Jasoos ki Hatya
Japuka ka Shaitan
Ghoonsa Khao Sehat Banao
Kungfu Master Bruce Lee