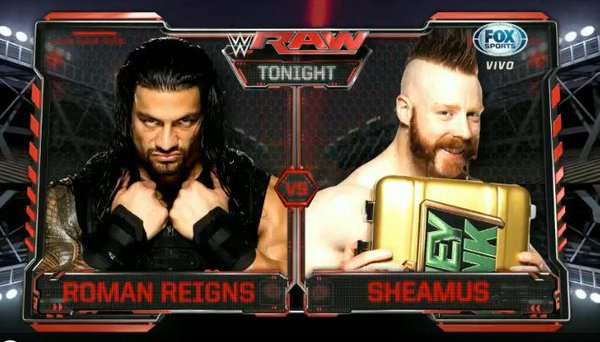 Survivor Series 2015 Roman Reigns loses title to Sheamus
Who would have thought that Roman Reigns, who won WWE World Heavyweight Championship at Survivor Series 2015, would be defeated by Sheamus minutes later, cashing in on his cashin his 'Money In The Bank' contract and snatch the hard-earned title away in a matter of minutes?
Beginning with, Reigns won the belt after defeatinghis former Shield buddy Dean Ambrose, who had beaten Kevin Owens on his way to claim a spot in finals with Reigns where the coveted world champion was to be decided.
Though Ambrose was aggressive at the start and took the fight to the colossal Reigns and even threw him into ring post,landing on his already injured shoulder, but unfortunately for Ambrose it was not enough for Reigns to keep grounded for the three-count.It was nail in the coffin for Ambrose when Reigns hit him ferociously with a spear, and he had literally lost the battle there itself.
Further drama ensued when Triple H came to congratulate Reigns the champ when he unexpectedly speared COO of the WWE. Very few would have known that this was a ploy to take down Reigns ultimately, as right after this Sheamus ran to cash on in his 'Money In The Bank' and delivered a right-off-the-bag two monstrous Brogue Kicks to deliver the death knell to Reigns and snatched the title from him. It all happened in a flash and Reigns had to relive the same horror of near-yet-so-fartragedy which he was handed at WrestleMania too, when he had beaten laboriously Brock Lesnar, only to see Seth Rollins to wretch the title away from him later.
25 years of Undertaker and reforming Brothers of Destruction
This year's Survivor Series also saw 25 years of the Undertaker, with him joining Kane to re-form the Brothers of Destruction to fight out with Wyatt Family. Luke Harper was Bray Wyatt choice to contest the tag-team match with him, though both Erick Rowan and Braun Strowman were to be part of the fight-up later in the match.
After a breath-taking Undertaker entrance, showcasing some of his memorable moments from his career projected from a giant coffin, the night ultimately ended in Reigns suffering another career-denting defeat at a premium pay-per-view.
Reigns' match with Del Rio, the semi-final,proved to be match of the night. Reigns withstood a barrage of beat downs to ultimately spear the Mexican and pulled off a spectacular win. In another semi-final, Ambrose overcome Owens and advanced to the final with Reigns.
Battle of Divas
Elsewhere, in the clash for the Divas Championship, Charlotte managed to hold on to the helm in an intriguing duel with Paige. Though she dominated prominent stages of the match, there was a decisive moment in the match when Paige gained a slight edge as the fight moved outside the ring. But she gave away this lead, pushed into the ring by Charlotte and locked in her famousFigure Eight, and though she tried her hard to cling onto rope but had to tap out, handing out the match to Charlotte!
With the biggest pro wrestling company in the world nearing WrestleMania season, and only a couple of months away from the next biggest event – The Royal Rumble, Sheamus has become the man to look out for Triple H and The Authority in 2016!