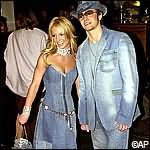 They come in all colours and are worn by all ages. One can wear them on any occasion, at any place and any time. They are the good old denims, the 'Holy Grail' of fashion…With more young people willing to spend far more on their jeans, denim brands are on a roll.

Denim rarely goes out of fashion, they say. All the more reason denim brands need to continuously upgrade and provide a wider range of products to stay in the marketplace. Especially the old domestic brands, hemmed in by the entry of foreign players. For instance, Levi Strauss, which launched its Signature brand of jeans a few years back in the South, will apparently now be launching it nationally. Signature is priced comparatively lower, between Rs 599 and Rs 999. Even Lee Cooper is considering a launch in this range in the long run.
But it is not only at the low end that things are heating up. More international players are coming in.
Raymond recently brought in Italian denim brand GAS and Arvind Mills's Flying Machine was recently re-launched. Lee Cooper too has aggressive plans for the near future. It recently launched the Exclusive Beatles Collection, underlining Lee Cooper's association with British music.
As per industry estimates, the jeans market in India is worth around Rs 2,000 crore, with a spread of around 35 million consumers who buy 43 million pair of jeans. Of this, the branded market is growing at 30-40 per cent annually.
According to Ameet Panchal, CEO, Lee Cooper India, "Denims have evolved from mere work wear to hot fashion statements and have grown to be the most desired and favourite apparel."
Also the fact that value-seeking customers are willing to go in for higher-priced branded jeans, if it relates to their lifestyle, will see this market grow several fold, he adds.
Alok Dubey, business head, Flying Machine, will be targeting the youth with the brand's new look range. "The re-launch focuses the brand on an entire new generation of young people always eager to do something new."
As for distribution, while most of the brands have exclusive outlets, they also have a presence in multi-brand outlets.
Lee Cooper plans to expand its retail presence in malls and high-streets, with more Lee Cooper Exclusives planned, bringing the total number of such stores to 30 this season. Even Flying Machine is set to revamp its distribution by opening more outlets.
With regard to promotion, brands are adopting unconventional mediums as well. "Youth today are spending more time on the web. We want to communicate with them where they are," says Panchal. Lee Cooper has started a community on the popular social networking site Orkut.
And then there are celebrities who endorse different denim brands, both on screen and off screen. From John Abraham to Deepika Padukone, the list is quite impressive.
Surely, young or old, denim is still the flavour of the season!
Source: India Syndicate