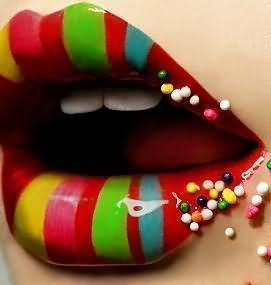 A pair of soft, supple and luscious lips makes a woman look all the more beautiful and pretty. A lip gloss does the trick of creating a fuller and a pouty look when applied correctly on lips. However, not everyone may like a particular flavor or smell of a lip-gloss that is sold in the market. If you are wondering about making your own lip gloss, you are on the right track! Yes, it is very much possible to make homemade lip gloss. It is easy, quick and hardly requires you to spend money. Check out this easy recipe that will guide you how to make flavored lip-gloss at home.

You Need:
Colored Lipstick or Cream Blush
Petroleum Jelly (Vaseline works well)
Scooping Stick or Spatula
Small Containers
Vanilla Essence or Flavor
Ziploc Bags
Instructions
Take your favorite shade of lip stick and cut a small piece of it. In case you don't want to damage your lipstick, use a creamy blush for a light tint. Take a clean spatula or a scoop and take out some petroleum jelly in it.
Get a small Ziploc bag and put in the petroleum jelly and the small piece of lipstick or cream blush in it. If you want, you can put in a tiny pinch of eye-glitter too, for an extra sparkle. Add 3-4 drops of Vanilla essence in it for the flavor and smell.
Seal the Ziploc pouch and let out the air from it. Now, gently squish the jelly and the color together and blend nicely. The color and jelly should be mixed nicely to form an even and uniform shade.
Now, take scissors and make a tiny incision at one corner of the Ziploc pouch. Squeeze out the gloss from the bag into a small container and keep it in the fridge if the outside temperature is too warm. Your homemade lip gloss is ready for use!