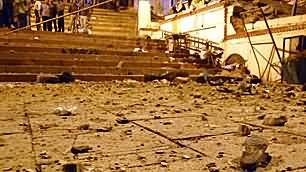 Varanasi Bomb Blast on tuesday Email from Mumbai
A bomb blast took place in the holy city of Varanasi on Tuesday 7th December. Killing 1 and injuring 35 others. An email was send 30 mins after the bomb blast to the media. The email by Indian Mujahideen (IM) claiming responsibility for Tuesday's blast at a ghat in Varanasi has been traced to Mumbai. A two-year-old girl was killed and around 20 people, including a couple of foreigners, were injured in the incident that occurred around 6.30pm. "The mail was sent from somewhere close to a big mall on Link Road in Malad (W)," a police officer said. "The accused may have used wi-fi."
Policemen from the cyber cell were checking the logs of the cyber cafes in Malad. Anti-terrorism squad chief Rakesh Maria said his agency was in touch with the service provider whose system had been hacked into to send the email. "We are confident of tracing the person or persons who did this. We have formed special teams for this purpose."
At least four emails claiming responsibility for terror attacks have been traced to Mumbai in the past. Two pertained to the 2008 Ahmedabad blasts— one was sent from a flat in Navi Mumbai and the other by someone who apparently used the wifi facility at Khalsa College. One pertained to the 2008 Delhi blasts; it was sent using the wi-fi facility of a private company in Chembur. The last was sent after the firing at Jama Masjid, Delhi, in September this year.
Within half an hour of Tuesday's blast, some media houses received emails from the id alfateh00005@gmail.com.
The sender claimed to be a member of the banned terror group IM. The mail linked the blast to the 18th anniversary of the demolition of the Babri Masjid.
According to the websites of several news agencies, the first few lines of the mail read: "Indian Mujahideen attributed this attack to the 6th of December that will haunt your nation of world's 'Greatest DemoNcracy' until Muslims are paid back justly and fairly for the loss of their beloved Babri Masjid, the precious lives of their near and dear ones, their pride, dignity and self-respect (sic)."
A security expert said the blast was carried out cleverly a day after the anniversary catching the police off guard. The internet protocol address from where the mail was sent was "122.158.42.223", a police officer said. "Someone logged in twice into the system to send the mail. The mail ID was created on December 6."
The claim for the blast by IM is credible since the modus operandi and the sending of the mail bears its footprint.