WINNERS: J.R. Martinez & Karina Smirnoff
J.R. Martinez Dancing with the Stars winner of 2011 with video. At the final night of the famous reality dance show Dancing with the Stars the winner was announced and it was none other than, J.R. Martinez. J.R. who is an ABC actor and his partner Smirnoff along with other finalist were made to dance more than twice to decide the winner.
It toook 1 hour and 58 minutes to decide the winner of the show.  The actual dancing required each pair to offer a reprise of their favorite dance of the season. Ricki Lake and Derek Hough went for their "Psycho" tango. You know, the one where Hough stabs Lake at the end. It was just as dramatic as it had been in its debut. Lake didn't seem to put a foot wrong. Her swoon of death was even convincing.
According to Len Goodman "This is one of the most memorable dances of this or any other season".
Where as Carrie Ann Inaba said, "You are a fighter that never gives up," in carnal solidarity with the last woman standing.
J.R. Martinez showed no signs of fatigue to win the winners cup.  Martinez, who was viewers favourite throughout the last leg of the hit ABC show, twirled and cha cha cha'd his partner Karina Smirnoff around the studio to the delight of everyone present.
Jose Rene "J. R." Martinez who is an American actor, motivational speaker and also former U.S. Army soldier, sustained severe burns on 40% of his body while serving the US Army in Iraq. Since 2008 he has played the role of Brot Monroe on the ABC daytime drama All My Children, and was the winner of Season 13 of ABC's Dancing with the Stars. On November 1st, 2011, the Pasadena Tournament of Roses Association picked Martinez as the Grand Marshal of the 2012 Rose Parade.
Second and third place winners were Rob Kardashian and Ricki Lake.
Here are some pictures from the show and a video as well.
Runners-up: Rob Kardashian & Cheryl Burke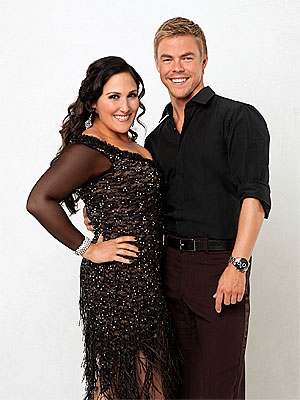 Third Place: Ricki Lake & Derek Hough
Second and third place winners were  Rob Kardashian and Ricki Lake.
Here are some pictures from the show and a video as well.
Watch the winners video here ==> http://www.youtube.com/watch?v=1rJUHrjWNaw