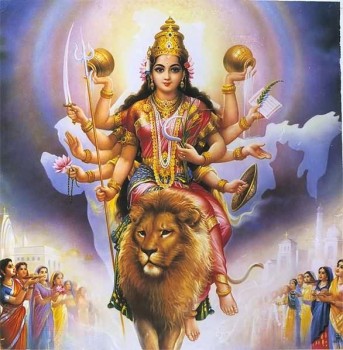 Durga Chalisa in Hindi, here you can read the Chalisa of mother goddess Durga in Hindi. On the ocassion of Navratri, which is a festival dedicated to Goddess Durga and her various incarnations. During the nine nights of Navratri Hindus pray to various incarnations and keep fasts for nine days. Here is Durga Chalisa in hindi along with the mp3 of the prayer. Some of the various forms of goddess Adi Shakti include,
Durga, the inaccessible one
Bhadrakali
Amba or Jagadamba, Mother of the universe
Annapoorna devi, The one who bestows grains (anna) in plenty (purna: used as subjective)
Sarvamangala, The one who gives joy (mangal) to all (sarva)
Bhairavi
Chandika or Chandi
Lalita
Bhavani
Mookambika
Daily recital of the prayer of Durga Chalisa will help you overcome your enemies and fears, your sorrows will vanish and prosperity will be bestowed upon you.
Durga Chalisa Video from Youtube
Durga Ma Pictures Mother Goddess Durga Pictures
Goddess siting infront in a yajna as the followers pray
Mother Goddess Durga killing the demon Mahisasur
Mother Goddess Durga as she takes the form of Kaali

Mother Goddess Durga in form of Laxmi
Mother Goddess Durga from Vaishno Devi
Mother Goddess Durga on her lion
and her various incarnations which are prayed during the Navratri