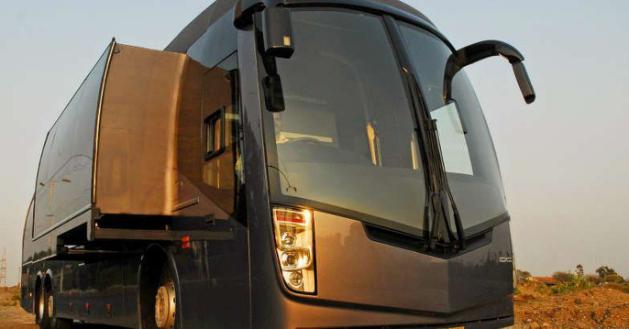 Vanity vans are connected to celebrities around the world, a vanity van is a large bus which has covers all around to hide the privacy of a celebrity usually an actor while. These vans provide all kind of amenities including food, bed, washroom, television etc, so the person living inside it does not feel bored. Well, Shahrukh Khan who is known as the king of Bollywood and probably the most expensive actor in today's date has got a new gift from the custom car designer Dilip Chhabaria.
According to the official, the van they have created has used glass on the floor of the bus which is backlit and illustrated and we have wood panels on the roof. They have also created a small extension. So when the car is parked in a larger area that room can be extended to give extra space. The vanity van also has a pantry section, a wardrobe section, make-up chair, a toilet cubicle with built in shower. The van has been painted in black shiny color, the interior looks more like a large limbozin car with soothing shades of white and blue giving it a futuristic look.
The bus is a B9R Volvo which can be commonly spotted during the inter city travel. The entire interior design, the light and ambience is much like futuristic tron game. The floor is reflective glass which is lit by LED lights. While the roof is wooden which keeps the temperature inside the van well controlled. The bus is about 14 meters in length and has a space of about 280 sq. feet. The bus has been divided into 4 sections which includes the meeting room, bedroom, toilet and makeup and changing room.

One an empty or spacious spot an extra room can be added with the help of hydraulics which increases the space of the bus by 80 feet. When it comes to the gadgets the bus has an Apple TV, it is fully Wi-Fi enabled and has three 4K televisions that too with satellite TV connection and surround sound systems. Now that is what you call a totally luxurious home.
The kitchen has tea and cofee provision as well, temperature of the van can be controlled. The van has been delivered to Shahrukh Khan, the price has been estimated to be around 3 to 4 crores. It is said that the project was completed in 1 and half months. Let us know what you think about this van.
In the recent news, BMC had demolished the elevated ramp infront of Shahrukh Khan's house Mannat where this Van used to stand as it was illegal.