Health is such an important part of a modern man's life that it can never be ignored with the advent of technology a modern man has become lazy and usually has to do lesser work compared to people of the older days. Technology has been a boon as well as a bain for us. Here are some of the Olympians who teach us how to stay fit and eat what they eat to remain in perfect condition. Good diet keeps them in shape to compete with the best in the world.


Tom Daley who is an English diver tells his diet. (Beans Toast)
Due to hectic regime he has to stay fit overcome fatigue and remain healthy. The diving athlete needs a balanced diet. He takes baked beans on wholemeal toast which best suits his needs. The low Glycemic index of beans allows more energy throughout the day but in slow way compared to carbohydrates where, you get bust of energy and you feel tired. This keeps you energized all day long.
Victoria Pendleton is a retired English track cyclist she is 31 years of age. (Tuna fish)
Victoria prefers to have Tuna along with Pasta, during lunchtime, for the cyclist, Pasta is a great source of carbohydrates as well as vitamin A,which helps in strengthening the bones and increasing your vision. On the other hand, the omega 3 oil in Tuna helps in reducing heart related problems and also helps in better functioning of the brain. Due to which it is preferred by most of the athletes, Victoria is against losing weight quickly and prefers exercising rather than dieting to loose weight. Which could have adverse effects.
Jessica Ennis who is a British track and field athlete and has many records under her name.(Ham and turkey sandwich)
Jessica who is arguably the most, popular athlete in Britain her diet is carefully planned and helps her in competing in various events, which is easy to prepare and helps in giving her the calories and energy she needs to excel in her field. She tries a ham and turkey sandwich on wholemeal bread. Lean meats such as ham and turkey are low in fat and high in protein which helps in quick recovery and cell reconstruction, keeping the muscles strong and helps in boosting the metabolism.
Andy Murray who is a popular Scottish Tennis player and has won several titles is ranked number 4 in the world. He is number 1 in Britain. ( Bagels with peanut butter)
Andy Murray is one of the most popular tennis stars in UK, says that his diet might not seem like the healthiest but you will be happy to know that it is healthy. This diet provides quick burst of energy with carbohydrates from wholemeal bagel and serves as great source of energy. It also contains high amount of potassium in the peanut allows you to develop stronger muscles. Before buying peanut butter from the market you should ensure that it is natural peanut butter, usually commercially made peanut butter is filled with sugar and sweeteners.
Paula Radcliffe who is a long distance runner from UK, and holds the record for women's marathon with a time of 2:15.25 hours. ) Mixed Nuts
This might seem like a small snack, but nuts as well all know is filled with essential nutrients to keep you healthy. It has high amount of monounsaturated fat which helps in keeping the cholesterol value down and reducing the risk of heart attacks. Also nuts are rich in calories hence they increase your energy and are good for long distance runners like Paula who need energy for a longer time, with a healthy heart.
Sir Steve Redgrave who is a British rower and has won gold medal at five consecutive Olympics since 1984-2000 (Pasta )
When you think of pasta you get an idea of fast food. Filled with Carbohydrates they are right for people like Sir Steve who need high energy doses. Not only does pasta contain high levels of energy, providing complex carbohydrates, it's also extremely low in sodium and cholesterol.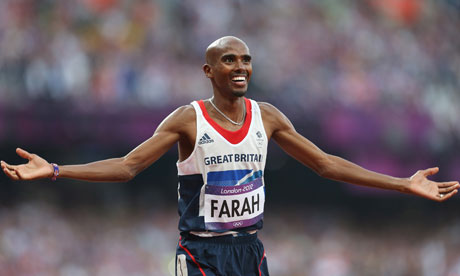 Mo Farah (Grilled Chicken)
Mo Farah who is a long distance runner prefers grilled chicken, which helps the muscles to recover from strain. High protein diets, helps in recovery from injuries, since the meat is grilled the level of fat is low, and Mo who is exteremely careful about her drinking habbits. She doesn't take alcohol, and trains a lot.
Rebecca Adlington who is a swimmer (Apples and Bananas)
Rebecca, loves to eat fresh fruits like Apples and banana, you can eat them in large amount if you want, filled with nurtition and minerals, both apple and bananas are best for an athlete. Apples which are good in maintaining cardiovascular health, and the fructooligosaccharides in bananas ensure that the body absorbs more nutrients.
Dai Greene (Eggs on toast)
Dai who is a 400m hurdle world champion sticks to his healthy diet, and has even said that improving his diet helped cure his epilepsy. He prefers to eat eggs on toast, eggs are filled with protein, and helps in muscle building, if taken with wholemeal bread they provide a good source of Vitamin B, who helps in increasing th energy levels, while Vitamin E is an antioxidant.