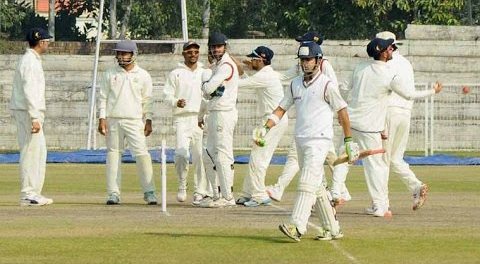 Indian cricket, it seems is going through a rough patch overall – be it performance on field or its management.Nothing seems to be going right for Indian cricket at the moment… After its roughshod crashing 215 run defeat against the mighty South Africans, the domestic cricket has come up with a controversy which could have been surely avoided, but is sure to ruffle some feathers.
The ongoing Ranji Trophy match between Delhi and Bengal saw some unsavoury scenes where the captains of both teams – Manoj Tiwary for Bengal and Gautam Gambhir for Delhi – hurled verbal foliage at each other. Tiwary has went a step ahead and reported the incident to match referee that the comment made was about former India captain Sourav Ganguly and was in bad taste. Tiwary has been told by match referee not to speak about the incident as the issue was now with the BCCI.
Tiwary also spoke with Ganguly after the ugly spat and it is learnt that the former India captain was quite upset after learning about the developments during the course of the match. Tiwary said sledging is fine but should stay within the limits. "Sledging and competitiveness is good but players should know where to hold on and don't cross the line," he noted.
Happenings Decoded
The ugly incident happened in the 8th over of the Bengal innings after Partha Sarathi Bhattacharjee got out cheaply out of Manan Sharma's bowling. Tiwary came in to bat at 4th position but was wearing a cap. Tiwary, who initially took guard but sensing that he needed a helmet because of pacer bowling the over, signalled towards dressing room for the same. This incident provided a spark to Delhiites who thought that the Bengal captain was engaging in time wasting tactics to break their momentum. This spark assumed dangerous proportions as Gambhir, who was standing in the slips, went charging towards Tiwary. He even reportedly pushed on field umpire K Srinath who tried to come in between them to soothe the affairs. It is a grave offence to push the umpire in cricket, and could invite a ban. Both of them hurled abuses like street fighters and almost came to blows before they were eventually separated.
Meanwhile, Delhi captain Gautam Gambhir dismissed Tiwary's allegations that he made comments against Sourav Ganguly as a "figment of imagination". His media statement read as follows : "On Sunday, Manoj Tiwary stooped to a new low by claiming that I made some comments against Sourav Ganguly, who is my favourite India captain and one of the best cricketers I have played with, and whom I fondly call Dada. Let me state that these allegations are baseless and this is Tiwary's way of sensationalising things through his figment of imagination". On Ganguly's name being dragged into the controversy unnecessarily, he showed surprise and argued that he would never disrespect the great leader. "Dada has taught Indian cricket to play aggressive brand of cricket and modelled the team to win outside India. Personally, I made my India debut under his leadership and can never forget the way he eased me into the team dressing room," he added.
It remains to be seen how this yet another saga of domestic cricket pans out.